2019 Hyundai Kona-Electric Walk Around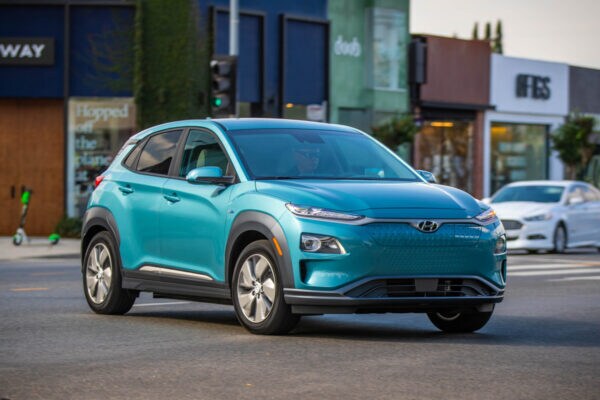 Flaunting what Hyundai calls its "geometric body form," the Kona Electric differs in appearance from the gas-engine Kona crossover. Overall their designs are similar, but the details differ noticeably.
Compared to other high-efficiency vehicles, the Kona Electric exudes substantial visual appeal. Aerodynamic blanking in the front end makes the Kona Electric look slightly more like a wagon. Deeply sculpted bodysides help conceal the EV's 70.9-inch width, which exceeds that of many competitive models. Hyundai's floating-roof profile is less dramatic on the Kona Electric than on its stablemate.
Interior
It's strictly business within the Kona Electric cabin. A 7.0-inch touchscreen (8.0-inch available) handily dominates the dashboard. Only a few details separate the battery-powered Kona from its gas-engine cousin. Most notably, the Kona Electric has a pushbutton selector at the center console, rather than the conventional shift lever in the gas-engine model.
Passenger space is nearly identical in both versions of the Kona crossover. Though sufficient for four adults, some Kona Electric riders are likely to feel a bit cramped.
At the rear is plenty of room for luggage. Batteries don't reduce available cargo space, which is ample at 19.2 cubic feet behind the rear seats.
Outward vision is generally good. Like all crossover vehicles, however, the Kona Electric's blind spots can be a challenge to full visibility. Fortunately, blind-spot monitors are standard.