2019 Hyundai Kona-Electric Driving Impressions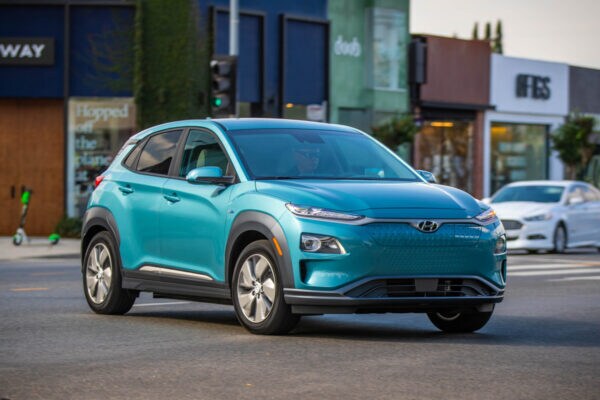 Of the two types of Konas produced by Hyundai, the Electric edition is the more exhilarating. Efficiency is its main attraction, as expected – but followed closely by the gratifying way in which its power reaches the pavement.
In a word, the Kona Electric is fun to drive, compared to the less-stimulating, gasoline-powered Kona crossover. Ride comfort differs, because the Kona Electric benefits from a more sophisticated suspension.
Like other electric cars, takeoff from a standing start is nearly instantaneous – almost thrilling. With 290 pound-feet of torque on tap, the Kona Electric is quite capable of spinning its front tires. Acceleration in around-town driving is impressively energetic as well as unruffled.
Without question, the EV's powertrain is substantially smoother than that of the gasoline-engine Kona – especially the turbo editions, which have a less decisive dual-clutch transmission.
The Kona Electric's efficiency is tough to beat. Rated by the EPA to travel 258 miles before recharging is needed, it gets a rating of 120 MPGe Combined (132 City/108 Highway). For its judicious use of available energy, the Kona Electric ranks highly among competitive battery-powered models.
A fully-depleted battery can be charged to 80 percent of capacity in 54 minutes, using a Level 3 (100-kw) fast-charger. Not many of those quick-charge systems are available as yet. Most homes can be fitted with a Level 2 charger, which takes nearly 10 hours to recharge the Kona's battery to 80 percent.