2019 Hyundai Ioniq Walk Around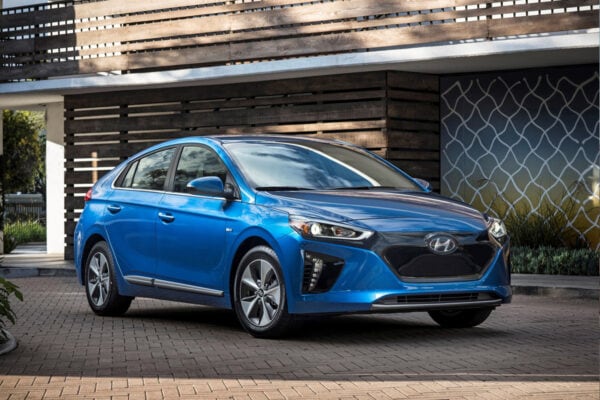 Hyundai's Ioniq hides its environmentally-friendly technologies within a normal passenger-car shape. Each of the three versions has slightly different styling. Some components are shared with the Elantra sedan.
Body lines sweep neatly upward from front to rear, helping to curtail wind resistance and aerodynamic drag. Battery positioning helps give the Ioniq a lower center of gravity.
Stylish and tasteful, the front end features an open front fascia – at least in Hybrid form. Neatly integrated headlights flank a conventional grille. Plug-in models get a more solid front end.
Interior
The Ioniq's interior shuns any futuristic details. The only hints it's a hybrid or electric car are that the customary shifter and parking-brake levers have been replaced by buttons and an interactive display.
Although overall seating space is somewhat snug, front seats are roomy enough and well-bolstered. Passengers sit low, but seat positioning is similar to that of Hyundai's Elantra. Wide interior dimensions translate to an open, airy feel.
Rear-seat legroom suffices for two adults, but not quite three. Taller riders may feel closed-in by the sloping roofline.
Controls are intuitive, unlike some hybrid/electric rivals. Even in upper-priced trim levels, some plastic elements are evident.
Cargo space is constricted by the battery pack, though plenty of cubbies, bins, and cupholders await use. Cargo space measures 26.5 cubic feet on hybrids, while Plug-in and Electric versions provide 23.8 cubic feet.