2019 Hyundai Ioniq Driving Impressions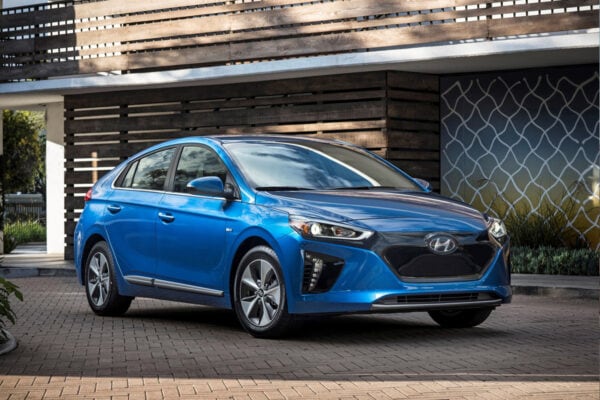 In addition to qualifying among the most fuel-efficient vehicles, an Ioniq – to the surprise of some – is fun to drive. Hyundai has made it look and drive like any normal vehicle, led by a comfortable ride.
Acceleration is admittedly leisurely, but decent, despite comparatively scant power output. Low curb weight helps.
Each Ioniq delivers a smooth drive, demonstrating the high level of sophistication in Hyundai's single-motor configuration. With no transmission, the Electric model is silky-smooth in every way.
Regenerative braking works well. Occasional blips may occur during transitions between regenerative braking, dual-clutch transmission shifts, and friction braking in hybrids.
Ioniq cabins are quieter than most. Engine revving is non-intrusive. The dual-clutch transmission helps stifle most stray engine noises, even under heavy acceleration.
Every Ioniq promises excellent efficiency. Hybrids are EPA-rated at 55/54 mpg City/Highway, or 55 mpg Combined. Estimates are higher for the Ioniq Blue (57/59/58 mpg), which has special, low-rolling-resistance tires.
The Electric model's 124-mile range compares with Volkswagen's e-Golf, but trails such competitors such as the Chevrolet Bolt. An energy-efficiency rating of 136 MPGe makes the Ioniq Electric the most efficient car sold in the U.S.
The Plug-in Hybrid isn't far behind at 52 mpg combined, when operating as a conventional hybrid. It gets a 119 MPGe rating, but range is shorter than some competitors.