2019 Hyundai Accent Walk Around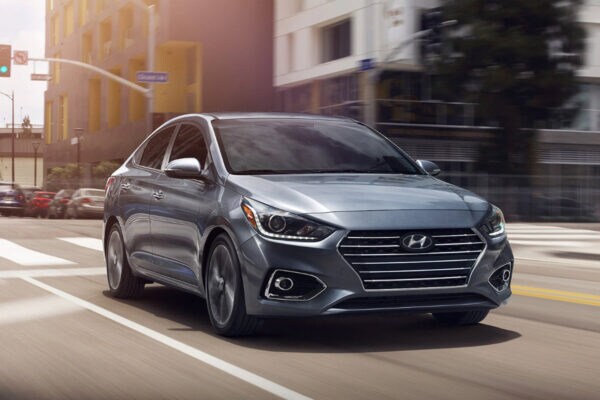 Accent sedans might not be showy, but they're pretty enough, blending in with their larger Hyundai siblings. Sheetmetal flows gracefully from nose to tail, echoing the profiles of Elantra and Sonata sedans. Quite a lot of details are borrowed from that larger duo, and they work well on the shorter Accent body.
Despite a hatchback-like roofline, Accents have a sedan's trunklid. A gentle wedge is evident in the profile. The hexagonal grille and headlights pucker at the front, while the body flares modestly around the wheels.
Interior
Even more than the body, Accent's cabin reflects the bigger Hyundai sedans, resulting in graceful appeal. In addition to creating good interior space, designers have avoided typical pitfalls in small-car styling.
Front seats could stand more bolstering, and their fabric tends to let occupants slide rather than grip them firmly in place. Rear seats provide comfort for two larger passengers – or three smaller folks. Small door openings demand some manipulation to slip inside and to exit, but rear headroom is good.
Even though hard plastics abound, the cabin suggests good taste in colors, grains, and textures. Nothing looks cheap or spartan. Overall quality seems on par with larger Hyundai sedans.
Front-seat passengers get storage for smartphones in the sliding-top console. The dashboard is neatly divided into pods for instruments, climate controls, and a touchscreen.
Trunk capacity is 13.7 cubic feet. Rear seatbacks fold down to expand cargo space and accommodate 6-foot-long items.