2018 Hyundai Ioniq Walk Around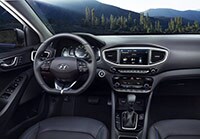 Unlike some hybrids and electrics, the Ioniq looks like a normal hatchback with a tall tail. Meant to improve aerodynamics, that shape is shared by various super-efficient cars. Hyundai claims the Ioniq's 0.24 drag coefficient is one of the lowest for a production model. Less upright than such rivals as the Nissan Leaf, the Ioniq also is lower.
Up front, swept-back headlights flank a trapezoidal grille. (Electric models get a blank plate in the grille's position.) The windshield slants back, and a horizontal accent line divides the bodyside. Electric and Plug-In versions have LED headlights.
Interior
Entering and driving the Ioniq differs little from piloting any small car. Though pleasant, with satisfying passenger volume for a small hatchback, interior space trails the Toyota Prius or Nissan Leaf. The tasteful cabin resembles any smaller Hyundai model.
Controls and displays are admirably intuitive. Hyundai has provided buttons and a controller at the dashboard center, omitting conventional gearshift and parking-brake levers. Many interior elements are made of sustainable or recycled materials, though some versions contain an appreciable amount of hard plastic.
Front occupants enjoy nicely-bolstered seats, which sit rather low. Because the hatchback is wide, the front-seat area feels roomy.
Headroom is restricted in back, due to the sloping roofline and position of the battery pack under the rear seat. Leg and shoulder space are fine for two adults, but taller passengers are likely to feel vertically cramped.
Cargo volume in the Hybrid totals 26.5 cubic feet – more than Kia's Niro, which is related to the Ioniq. Electric and Plug-in Ioniqs provide 23.8 cubic feet.
Engine revving may be heard, but it's not intrusive. Direct shifting of the dual-clutch transmission tends to suppress any engine howl when acceleration energetically.