2018 Hyundai Ioniq Driving Impressions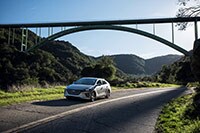 Most notably, the Ioniq is fun to drive and relatively sporty, while operating with impressive fuel-efficiency. Each powertrain is energy-efficient in its own way, without cutting into driving enjoyment.
Power output is no greater than average for this vehicle category, but it's offset by light weight, keeping acceleration acceptable. Because Hyundai uses a single-motor configuration and conventional transmission, operation isn't as smooth as that of twin-motor models.
Any Ioniq promises pleasant ride quality. Suspensions are tuned to meld with various wheel sizes, each holding low-rolling-resistance tires.
The regenerative braking system works appropriately, though Hybrids may experience an occasional mismatch between the braking systems and transmission. Because the Electric Ioniq lacks a transmission, braking factors blend especially well.
Even when driven with some vigor, the Hybrid yields fine fuel economy, earning the highest fuel-economy figures of any car without a plug, the Hybrid Blue is EPA-rated at 57/59 mpg City/Highway, or 58 mpg Combined. The standard Hybrid rates 55/54/55 mpg.
Ranking as the most energy-efficient vehicle available, with a rating of 136 MPGe, the Electric has a range up to 124 miles. Like nearly all electric cars, it's calmer and quieter than any vehicle with a gasoline engine. EPA ratings for the Plug-in Hybrid are not yet available.